In Volunteers' Week, we want to say THANK YOU!
It's Volunteers' Week this week and we want to say a HUGE THANK YOU to all of the people who give their time freely to Children North East to help make things better for babies, children and young people in our region.
This year has highlighted the vital role volunteers play across the UK and we want to join other organisations in making sure everyone is aware that this is a week to recognise the impact of volunteering.
Today we've invited one of our trusted volunteers, Julia Ruane, to tell her story. When Julia returned to the North East after working in Spain, she decided to use her skills to help others. She joined us not long before the pandemic hit and spent much of last summer supporting staff putting together the thousands of activity packs that we sent out to children stuck at home during lockdown.
Now she is with our Families and Parenting Service at Cowgate – over to Julia: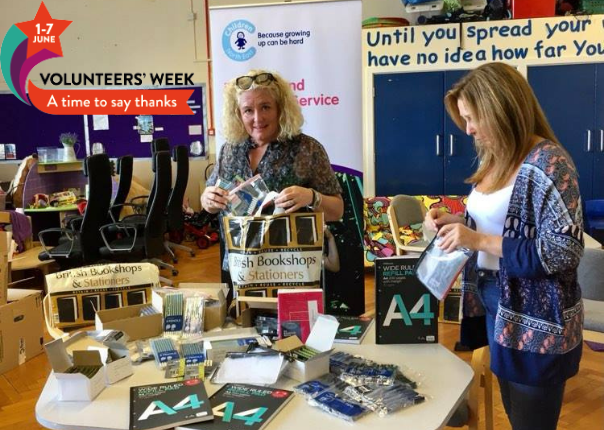 Hi, I'm Julia and I have lived overseas for most of my adult life and when my partner decided to retire, we were able to come back to the North East. Over the years I have always been involved in volunteering in some form or other, so I was really pleased when Children North East offered to take me on and give me family support training. Since then, I have been able to get involved in some amazing learning experiences.
One example was around helping a mum and daughter set up a new home and make good choices. They have needed help with setting up accounts/direct debits/household utilities and budgeting. Mum has some learning/confidence difficulties which we work on weekly, and I feel she is coming along fabulously.
Time for mum
Also, I support a mum who is studying, has just had her fourth baby and her eldest boy has autism. Her husband works different days every week with early starts, so, when I'm needed, I help walking the boys to school, as sometimes her eldest would be difficult to handle along the busy road. I love doing the walk and using the tools I have been given to help. The boys are all doing fab as is mum. On the way back we can have a lovely catch up and it is time for mum.
In the past several months, I have been involved in helping another mum make better judgments and choices which ultimately resulted in her being cleared to take her baby home. This is an amazing achievement for all involved but most of all her baby. We will still be working along with them until she is happy and confident.
There are so many good things going on at Children North East and working here I learn more every day. Most of all, I see how many people care and want to help others. In fact, one of the hardest parts is letting people who need help and care, know that there are so many people and organisations out there for them.
One of the many things I have been involved in at our Families and Parenting Service is the rearranging and organising of the Cowgate centre. As we all know, the first lockdown was intensive and no one knew what was going to happen. With that came a lot of disruption, so the centre became a place for dropping off and picking up all manner of items – such as food and clothing – which a group of seven volunteers have been organising throughout. It is an ongoing task still. We are also setting up a new café area, doing weekly food deliveries and getting the activity groups up and running again for parents and babies/toddlers. So, watch this space as many new things are coming to Cowgate.