Joe McElderry meets our FAB group
South Shields singer/songwriter Joe McElderry is the latest musician to lend his support to a special charity project which aims to celebrate our region's rich musical heritage.
Joe joined the young people who attend Children North East's Fabulous and Brilliant (FAB) Group on Zoom as part of their new 'Voices of the Tyne' research.
'Voices of the Tyne' is all about exploring North East music and giving a platform to both established and emerging artists.
The group is working on a 'Voices of the Tyne' website, due to launch in May, which is being built by one of FAB group's members, Peter, who is studying Computing at Northumbria University.
And Haydon, another FAB attendee, who is studying Technical Theatre at Newcastle College, has conducted interviews with Joe and several other musicians for the filmed Q&As that will appear on the website.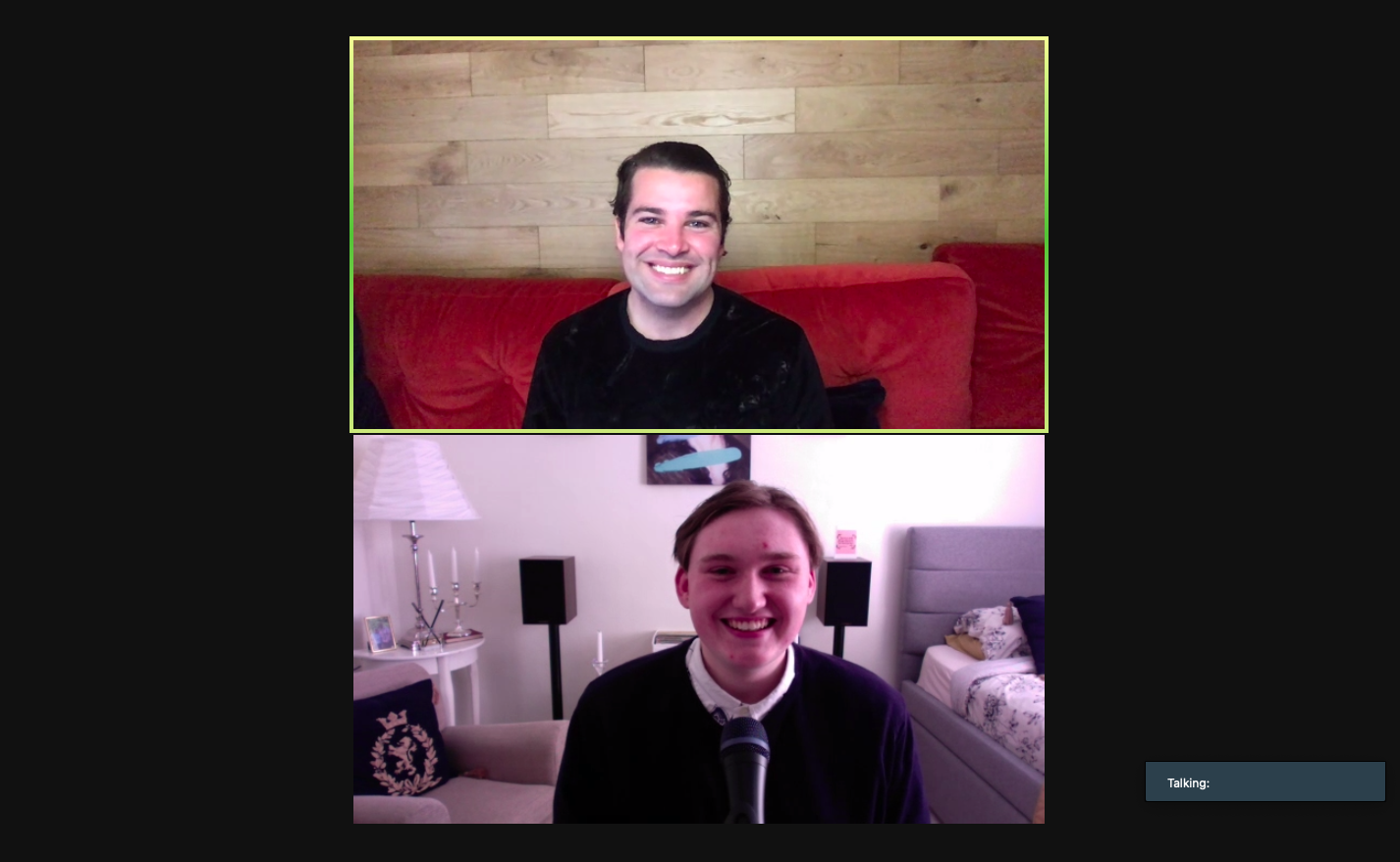 Joe (pictured talking to Haydon above) just happens to be an icon for Haydon and fellow FAB member, Callum and it was a particular thrill for them to meet him.
Haydon said: "Me and Callum are fan boys! My interview didn't go completely as planned – I had lots of questions written down, including 'What was it like to work with George Michael?' but I ended up asking him whether he'd ever thought of getting a Claire's Accessories sponsorship as he's been rocking different hair bands during Lockdown!"
Luckily Joe took it all in good humour. Haydon added:
"Joe had no arrogance, he just had this lovely calm, very sweet personality and it was so lovely to meet him."
Callum is a great fan of the musical, Joseph and his Technicolor Dreamcoat and Joe is his favourite Joseph – in fact he's seen Joe perform in the show at least three times.
The 'Voices of the Tyne' project began in March and Haydon has also chalked up chats with two voices of the Wear – Barry Hyde of art pop group, The Futureheads and Kev Dosdale of Field Music.
Paige Temperley has also had the honour of being interviewed by our Haydon. Paige is an emerging artist with a new single out on Spotify (other streaming services are also available) called Whos' Gonna Want Me? Why not give it a listen here?
As if all that wasn't enough, theatre company, Twisting Ducks have been working with FAB group members, Thomas and William to produce a spoof Ant and Dec comedy sketch, which will also launch on the new website. And dance teacher, Lyn Campbell, of Get Connected, has worked with the group to choreograph a dance to Little Mix's 'Shout Out To My Ex', one of their favourite songs.
The FAB group is for young people with disabilities and meets weekly on Zoom to socialise and have fun. The group also acts as a voice for other disabled young people in Newcastle, sharing their views with decision makers about accessibility issues and sitting on interview panels.