As pupils head back to school we're helping teachers 'turn the page' on poverty
We've partnered with Child Poverty Action Group and the National Education Union to publish a new resource for schools, aimed at helping teachers and school staff tackle poverty.
Children North East and Child Poverty Action Group developed the resource, 'Turning the page on poverty', based on our years of experience working directly with schools to reduce financial barriers to learning. This year we celebrate ten years of our unique Poverty Proofing the School Day project which creates a level playing field for pupils in the classroom.
Published in the context of increasing levels of hardship for families, the toolkit highlights the crucial role schools can play to support struggling families. The pandemic has hit household finances hard, particularly families with children, and schools are already recognising the need to support pupils in poverty more than ever.
'Turning the page on poverty' is a practical guide for staff, with information on poverty and ideas for how to reduce the costs of the school day. It includes sections on a range of topics related to child poverty in the classroom, including:
How to talk about poverty, including ideas like creating safe spaces to discuss it with pupils, using art, drama and play to talk about poverty-related stigma, and ways to address discriminatory or negative views.
How schools can reduce poverty stigma and school-related costs, including ideas such as setting up second-hand uniform shops, giving advance notice of trips to parents to enable them to budget, and providing resource areas for pupils for creative homework.
How schools can support families affected by poverty, for example by helping them access entitlements and financial support, running 'extended schools' programmes, and signposting families to local support services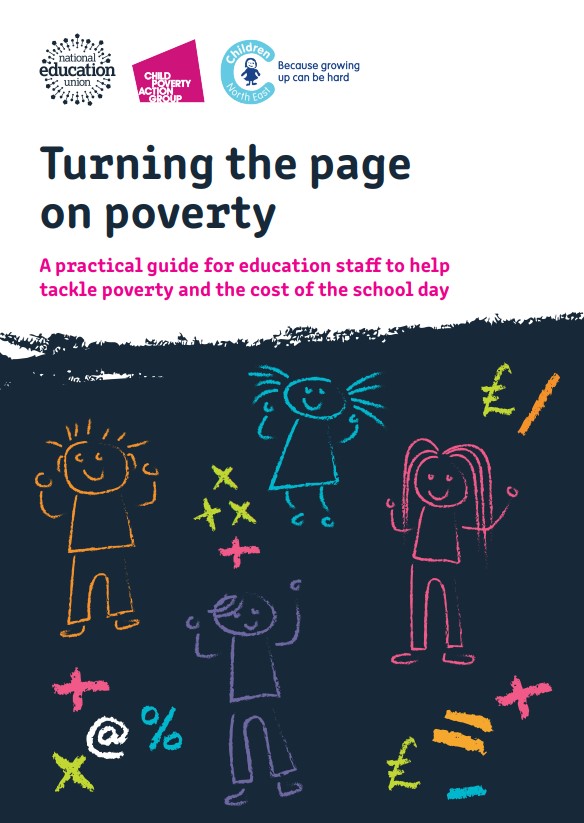 Alongside the toolkit, we'll be running training workshops with CPAG for NEU members and school staff in England and Wales to help increase awareness of poverty in schools and provide practical ideas and examples of what can be done to improve the school day for children and families in low income households.
Luke Bramhall, Poverty Proofing and Participation Service Manager for Children North East, said:
Since the formation of Poverty Proofing the School Day nearly 10 years ago we have seen the richness and the power in the voice of pupils in informing school staff on what the challenges within the school day are for those caught in the grip of poverty. We are proud to present this resource for school staff as one of the mechanisms of sharing the experiences of children and young people and can see its value in supporting schools in meeting the needs of children who may struggle to access education as a result of the poverty they face.
Alison Garnham, Chief Executive of Child Poverty Action Group, added:
"Our Cost of the School Day programme has been running since 2014, and we know that school staff often go above and beyond to support children and families struggling on low incomes. Our new toolkit aims to help teachers and staff with structured practical advice and recommendations informed by our work with school communities across the country.
By removing financial barriers to learning, schools can help all children access opportunities to learn and participate. We hope NEU members and school staff across the UK will find this resource useful as they continue their valuable work during this difficult time.
But poverty doesn't stop at the school door. While schools can and do make a difference in their community, it is up to the Government to take action to reduce child poverty in the UK."
Dr Mary Bousted, Joint General Secretary of the National Education Union, said:
"As a result of the pandemic, we're facing unprecedented new levels of hardship. This practical resource draws on ideas that schools have developed and tested, before and during Covid 19, in terms of talking about poverty, understanding the stigma and helping families to access other local services.
"In working with Children North East and Child Poverty Action Group, we want to recruit more schools to this approach of thinking reflectively about how poverty affects the school day, how children feel and the attitudes we hold about poverty. It's time to re-think a great deal about education policy in England if we want to build a fairer system after Covid and we think this resource is timely.
"By sharing good practice between schools, we can build capacity to make a difference and this resource is built on what schools are doing. We must 'turn the page' on poverty. Alongside schools' determined efforts, the Government needs to commit to doing everything that is necessary on income support to ensure children aren't growing up in poverty. We have to tackle the drastic income inequality in the UK and eradicate the gap in incomes and rise in poverty rather than asking schools to 'close the gap'."