Wallsend Boys Club Girls team kits sports Children North East logo!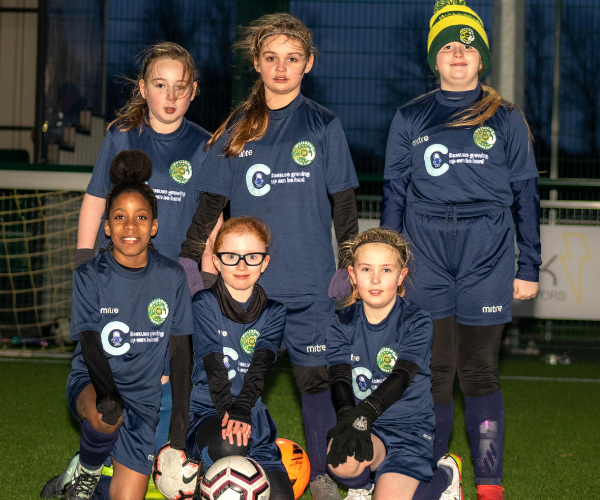 Kitted in their Children North East Kit, the Wallsend Boys Club Under 9's Girls team warm up to take on an evening of training before their matches on Saturdays. The team has chosen to play wearing Children North East's logo wanting to help raise awareness about the positive effects of our work! We went along to a session to see what being part of this football club means to the girls.
Manager, Crya Carne, explains that she works with girls from the age of three all the way up to women's team. The Under 9 team all worked their way up from the development squad and wear the Children North East logo with pride.
'Football helped them transition back to normal life after lockdown.'
It was well documented that the pandemic took a toll on young people's mental health and wellbeing. The Under 9s Squad Manager shared that after lockdown many children had lost interest in hobbies 'but after being back playing football for a few weeks I could see their interest was back, they wanted to see people, make friends and go out and play football'. This is why it's key to recognise the importance of keeping active and socialising!
'You can see their confidence has improved!'
The team come together to train, improve and win matches! 'In terms of football they're all massively developing and really enjoying it. The younger ones can be quite shy but after a couple of weeks of just playing with the team they become really chatty!'. The team spirit was in the air all evening, highlighting the positive effect sports has both mentally and physically.
'Everyone's running round with their friends with has a smile on their face.'
Sarah has been coaching the team for nearly a year, 'My daughter plays and she classes these (the Under 9's teammates) as her best friends'. The sense of community and friendship both on and off the pitch displays how much of an impact team sport has on young people. They train every Tuesday and Thursday for their Saturday matches, with more and more girls joining the team after lockdown! It provides the opportunity for friendship, staying active and perusing a passion.
Whilst the aim is good fun, 'We're (the coaches) quite competitive and so are the girls! ' we can vouch that the girls always do their best and take home the trophy, just like the England squad, which we think is something to shout about.